Wallachian Village
Individual tours and guided tours for groups
Refreshments and traditional foods
The Wallachian Village is the largest site at the Wallachian Open Air Museum. It recalls the appearance of many real villages on the slopes of the Beskid Mountains as we know them from the beginning of the 20th century. This group of wooden buildings gives the visitor the chance of taking a look at the everyday life of the people of a Wallachian village from the end of the 18th century to the 1950s. Most of the buildings you can see here are original buildings relocated from their original sites, though you will also find copies and scientific reconstructions of buildings built on the basis of historically proven facts. The layout of the farmyards and the interior settings correspond to historical events and the true stories of specific families revealed by archive research and fieldwork.
Opening times
5. 12.
Tue

program Mikulášský podvečer

14:00 – 18:00
6. 12. - 8. 12.
Wed - Fri (day of the week)

edukační program Vánoce na dědině

8:00 – 16:00
9. 12. - 10. 12.
Sat, Sun

program Vánoční jarmark

9:00 – 16:00
11. 12. - 15. 12.
Mon - Fri (day of the week)

edukační program Vánoce na dědině

8:00 – 16:00
16. 12. - 17. 12.
Sat, Sun

otevřeny pouze exteriéry

9:00 – 16:00
26. 12. - 31. 12.
Tue - Sun

otevřeny pouze exteriéry

9:00 – 16:00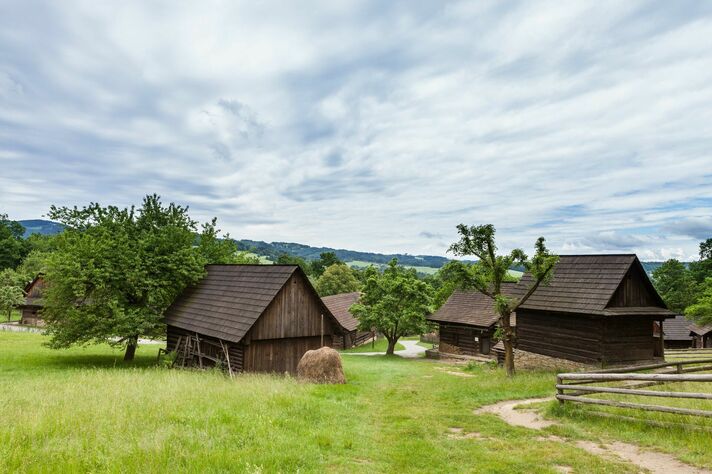 Admission
---
| | |
| --- | --- |
| Adults | 100 Kč |
| | 80 Kč |
| Children aged 6 - 15 | 100 Kč |
| Family admission (max. 2 adults and up to 4 children to the age of 15) | 200 |
| Children to the age of 6 | Free |
| Animal | 20 |
---
More information
In the Wallachian Village you can see the simple wooden cottages of the poor people of the village, as well as the farmsteads of more prosperous farmers with farmhouses and farm buildings – barns, cowsheds and sheepfolds. You can take a look inside a windmill, a smithy and a wheelwright's workshop, and find the tools used by other craftsmen, such as a weaver, a cobbler and a ropemaker, in the cottages. There are also public buildings on the site of the kind that serve the village community – a school, a church and a pub.
During the summer season, some of the cottages are occupied by people who will acquaint you with the everyday lives and destinies of their inhabitants. The cottages are closed during the winter season, though the Wallachian Village invites you for a pleasant walk at any time of year.
A great many special programmes focusing on folk customs, children's games, teaching in the old school, traditional farming, shepherding and crafts are held here during the year.
You can take a tour of the site without a guide. Guided tours for groups must be reserved in advance.
Individual tours and guided tours both last around 120 minutes.